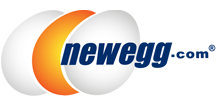 advertisement

Newegg Coupons & Info
Newegg.com began in California, when Fred Chang started the website in 2001. Newegg is a massive online retailer of computer hardware and accessories. After just four years of being online, Newegg became one of the 10 largest retailers on the web, nearing a whopping $1 billion in sales.
The website has seen tremendous growth since and has branched out into several other smaller sites. In 2010, sales topped $2.5 billion and Newegg ranked among the 200 best private companies in the United States. Currently, Newegg pays over 2,500 employees, and the online store is still held in high regard by those who share an appreciation for computers and technology. Over the years, the company has seen many different awards, standing out particularly in their customer service department; Newegg has also placed amongst the top 10 Internet retailers a number of times since its launch.
There are many different flavors of computers and computer accessories available through Newegg that make it a key destination for anyone looking to purchase or upgrade their PC. Newegg started with one warehouse in the City of Industry – California. Since then, it has expanded its operations to Memphis, Tennessee, Edison, New Jersey and now Indianapolis, Indiana in the United States.
There is furthermore a warehouse in Mississauga, Ontario, Canada as well as eight locations throughout China. Newegg also has location specific websites available to their customers in the United States, Canada, China and Taiwan.
EggPoints
If you have an account on Newegg, you are eligible to receive EggPoints. For each dollar that you spend on the site, you earn 1 EggPoint. Every 100 points you earn, you get to enjoy $1 to put towards your next purchase. It's also important to keep in mind that EggPoints expire 90 days after the date of issue, so make sure to use them within that time period for extra savings. For more information on EggPoints please take a look at the promotions page found here.
Iron Egg Price Guarantee
As a one-time courtesy, any item that is purchased on Newegg that has the Iron Egg badge is able to be price matched. Within 14 days of purchase, you can contact customer service after seeing the same item for less on another website. The difference in price will be sent to you in the form of a gift card.
Promo Codes
Newegg only allows for the use of one promotional code per item, and the code can only be used by each account once. Members must also be subscribed to Newegg for at least 24 hours before using these codes.
Also important to note that any item that has a mail-in rebate will come with a link. Through that link, you can print out the page and mail it to Newegg for the rebate.
Newegg Premier
Newegg offers an exclusive membership service known as Newegg Premier. For $49.99 a year, you receive free expedited shipping, an exclusive customer service line, deals not available to the public, alerts of future sales, free returns and no restocking fee. There is a 30-day free trial for those interested, and three months free for residents of Illinois, Michigan and Kentucky.
Newegg Coupons
25% Off Select Items + Free Shipping At Marketplace: NUTRABOLT25
$10 Off Hamilton Beach 49983A 2-Way FlexBrew Coffeemaker: AFNJ2049